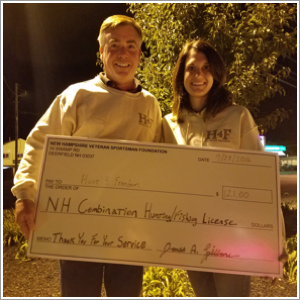 Hunt for Freedom is a group that was formed in order to provide "combat wounded United States Veterans an opportunity to participate in a hunting expedition that will enable them to take the important steps towards living again."
NH Veteran's Sportsmans Foundation supports Hunt for Freedom with their donation so they can take two NH Veterans hunting this fall. We will continue working with Hunt for Freedom whenever they have NH Veterans to take hunting.
Pictured in the slider are James Spillane, founder of NHVSF, with Kaila Currier and Ray Parkhurst, founders of Hunt for Freedom. Left, Rep. James Spillane and Kaila Currier.