Gary Puffer was a fireman on the USS Nashville LPD-13, a troop transport based out of Norfolk, VA. He made cruises to Barbados, the Caribbean and Mediterranean parts of the Middle East.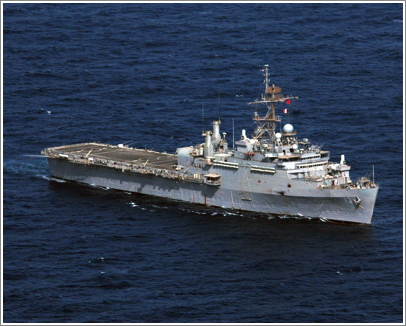 FROM GARY
I graduated from high school on June 18, 1981 and was at the Great Lakes Naval Training Center on the 23rd. I actually had fun during basic, did great in the classroom and especially loved the sports and physical training of boot camp. In high school I always played sports and lifted weights, definitely an advantage over those who were not so physically active.
Basic was only 8 weeks long back then and when I graduated I went over to Main Side for basic electricity school, also known as Beep school or B/EE. I did OK in this school but found out they were combining my chosen rating with another which meant they were only keeping the top 25% of students. I had passing grades but not even close to the top, meaning I was sent to the fleet as an unrated fireman and was assigned to the #2 fireroom on board the USS Nashville LPD-13, a troop transport based out of Norfolk, VA.
The "Ville" was a great ship winning many awards and accommodations. We made many small cruises but the most noteworthy were a Presidential Support for then President Ronald Reagan during his trip to Barbados, another cruise to the Caribbean with visits to many of its islands and two Mediterranean cruises. The first one was in May of 1982 and the fighting in Lebanon peaked. Our task force of 5 amphibians were sent to Beirut and spent most of our Mediterranean cruise doing gator squares off the coast in support of the Marines that our group brought there. A year after we left the Lebanon area the Marine barracks was blown up, many brave souls were lost that day. In 1985 we made our second Mediterranean cruise after being in dry dock for about 9 months for scheduled repairs. This cruise would be my last as my enlistment was up in the middle of June.
My last port of call was Venice, Italy, a great place to visit and a memorable city to end my tour on the Nashville. I was flown from Italy back to the USA and spent 4-5 days in Philly awaiting my discharge orders. It is now fitting that I ended my stint in the Navy in Philly, in Sept 2009 my ship, the USS Nashville LPD-13 was decommissioned and now sits in mothballs in the Philly ship yards! I miss the ship and especially miss my shipmates, many I am still in contact with thanks to the internet, some I see in person from time to time when traveling. Unfortunately we have lost some of our shipmates and will not see them until we meet at Davy Jones' Locker. May God look after ALL of our brothers and sisters in every branch of the US Military, past present and future.